If interested in posting a position on our job page please email nsbesdsu.webmaster@gmail.com
February 10th, 2019
COAST is pleased to announce our Summer 2019 Internship Opportunities: https://www2.calstate.edu/impact-of-the-csu/research/coast/funding/Pages/Student-Internships-Summer-2019.aspx.
We have 16 PAID internship positions open this summer ranging from working with Remotely Operated Vehicles (ROVs) to culturing of abalone to supporting data science projects at 
state and federal agencies, non-profit organizations and private industry
. 
Students from a broad diversity of backgrounds, such as Biology, Chemistry, Computer Science, Engineering, Geology, Resource Management and Policy, and more, are encouraged to apply. 
The deadline for applications is Monday, March 4, 2019, 5:00 pm PST. 
Please read the 
General Eligibility Requirements and A
pplication Materials and Procedures sections carefully so you understand each section thoroughly.
General Eligibility Requirements
Applicants must be continuing CSU students in good standing. Applicants must still be students during the internship (i.e., must not have graduated and must be enrolled at a CSU for Fall 2019). Undergraduate students must have completed at least two full years of coursework by the end of Spring 2019 and be considered at least a Junior at the beginning of Fall 2019 (i.e., 60 semester units or 90 quarter units completed). Graduate students must be enrolled in a degree program. Both part-time and full-time students may apply. Applicants are not required to be U.S. citizens; international and undocumented students are eligible to apply.​ Internships may have additional eligibility requirements-please see individual descriptions for more detail.
Activities and qualifications vary with each internship. Each internship has specific preferred experience and capabilities, eligibility/requirements (including coursework, skills and physical capabilities) and is based in a specific area. If selected, it is expected that the intern will be able to relocate to the specific area for the entirety of the internship. Several internships require working with data in an office setting and the core duties may be performed by students with physical disabilities or limitations while others require intense fieldwork and have extreme physical requirements such as​:
Carrying equipment up to 50 pounds,
Working in remote locations,​
Working out of small boats,
Controlling equipment and accurately and legibly recording data during harsh weather conditions.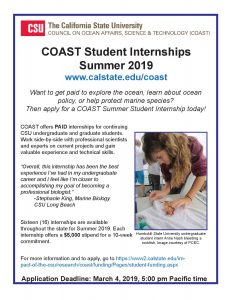 January 31, 2019
Calling aspiring transportation planners and engineers!
Applications for San Francisco Municipal Transportation Agency (SFMTA) Sustainable Streets Division's summer internship program are available now. Gain valuable on-the-job experience under the guidance of experienced transportation professionals. Interns will participate in transportation planning and engineering activities including:
• Designing and implementing transportation safety improvements and multimodal complete streets
• Performing community outreach and engagement, responding to community requests for transportation improvements
• Coordinating with other city agencies, contractors and communities on transportation-related projects
Interested applicants must complete and submit all application materials online at sfstudentintern.org For questions, please contact: ssdinternship@sfmta.com.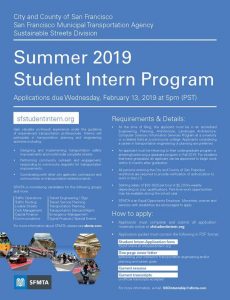 January 23, 2019
Lockheed Martin has established a new scholarship program to provide opportunities to students studying engineering or computer science that demonstrate financial need and come from underrepresented or underserved communities. In 2019, up to 200 renewable scholarships of $10,000 each are offered for full-time study at an accredited institution of the student's choice.
The 2019 program will be accepting applications from January 15, 2019 through 3:00 p.m. Central Time on March 12, 2019. Thanks for your interest in the program!
The program is administered by Scholarship America®, the nation's largest designer and manager of scholarship, tuition assistance, and other education support programs for corporations, foundations, associations, and individuals.
Applicants to the Lockheed Martin STEM Scholarship Program must meet the following eligibility requirements:
U.S. Citizens
Current high school seniors with a cumulative 3.5 or above GPA, or current college freshmen or sophomores with a cumulative 3.0 or above GPA.
Planning to enroll full-time at an accredited four-year college or university in the U.S.
Majoring or planning to major in Aerospace Engineering, Electrical Engineering, Industrial Engineering, Mechanical Engineering, Computer Engineering, Computer Science, Systems Engineering, Math Physics, Information Systems/Management Information, or Information Assurance.
Demonstrate financial need.
Be willing to accept a paid internship with Lockheed Martin following freshman, sophomore, or junior year of college.
Online application link: https://www.lockheedmartin.com/en-us/who-we-are/communities/stem-education/lm-scholarship-program.html
Contact Us:
Email: lockheedmartin@scholarshipamerica.org
Phone: 1-507-931-1682 and ask for the Lockheed Martin STEM Scholarship Program
October 11, 2018
The 2019 SEAP and NREIP Summer Internship application period remains open until 2 November, 2018 at 6:00pm EST
If you're the parent or friend of a high school or college student interested in a science or engineering career, please share the word!
SSC Pacific works with two summer internship programs designed for exceptional high school students and collegiate students who have an interest in a future career in the science, technology, mathematics and engineering (STEM) fields.
These internship programs provide an opportunity for students to participate in research at a Department of Navy (DoN) laboratory during the summer.
The goals of these programs are to encourage participating students to pursue science and engineering careers, to further their education via mentoring by laboratory personnel and their participation in research, and to make them aware of DoN research and technology efforts, which can lead to employment within the DoN.
_______________________
The Science and Engineering Apprenticeship Program (SEAP) is for high school candidates:
San Diego's lab specific eligibility criteria can be found here:
https://seap.asee.org/participating_labs/space_and_naval_warfare_systems_center___pacific__san_diego_
Additional San Diego lab specific information:
1) High School students must be 16 years of age by 31 December, 2018.
2) SEAP Program dates are 17 Jun – 9 Aug, 2019
Online application link: https://seap.asee.org/apply
————————————————————
The Naval Research Enterprise Internship Program (NREIP) is for
collegiate candidates:
San Diego's lab specific eligibility criteria can be found here:
https://nreip.asee.org/labs/space_and_naval_warfare_systems_center___pacific__san_diego__ca__
Additional San Diego lab specific information:
1) NREIP Program dates are 17 Jun – 23 Aug, 2019
Online application link: https://nreip.asee.org/apply